RETURN TO THE LAND OF MONSTER GIANT TREVALLY
by BOB DALY (Louisiade archipelago, papua new guinea)
ROCK EXPEDITIONS - JANUARY 23 TO FEBRUARY 8, 2020
Mark Twain once said " Your time is limited, so don't waste it living someone else's life. Don't be trapped by dogma-which is living with the results of other people's thinking. Don't let the noise of others' opinions drown out your own inner voice. And most important, have the courage to follow your heart and intuition".
An expedition is defined as " a journey or voyage undertaken by a group of people with a particular purpose, especially that of "exploration". For me, the purpose of this expedition is to have the opportunity to battle the heavyweight champion of the oceans, The Giant Trevally.
Papua New Guinea is an Independent State in the South Pacific which shares a land border with Indonesia. It's other near neighbors are Australia to the South and the Solomon Islands to the East.
The country comprises about 600 small islands with only 13% of the people living in urban areas. Papua New Guinea has more than 800 indigenous languages, thought to be more than any other country in the world!
The Louisiade Archipelago is located in the Milne Bay Province. It is a string of ten larger volcanic islands frequently fringed by coral reefs, and 90 smaller coral islands.
The fishing opportunities are countless! Rock Expeditions, under the guidance of Luke Wyrsta, offers expeditions which provide the opportunity for a limited number of like-minded and adventurous anglers to experience this incredible location.
Since having the opportunity to fish with Rock Expeditions the past 2 years, the days were being counted to head back to this land of monster fish.
On January 23, 2020 I took a very long flight from Chicago to Brisbane, Australia via Los Angeles. I stayed for a few days at the Ibis Budget Airport Hotel to get over jet lag.
On January 27 I then flew from Brisbane to Port Moresby, Papua New Guinea where I met up with fishing partner Bruce Cross at the Gateway Hotel. This would be Bruce's first Expedition with Rock. Luke Wyrsta met us at the hotel later in the evening to down a few SP beers and discuss the upcoming week plans.
The next day we flew on PNG Airlines to Misima Island where we would be greeted by members of Luke's team. Misima Island is a volcanic island of the Louisiade Archipelago. The locals can be seen standing outside the fence at the Misima Airport to watch the incoming/ outgoing planes!
After heading to a local store, we loaded the boat up with a few cases of beer for our hour boat ride to our base camp on Bushy Island.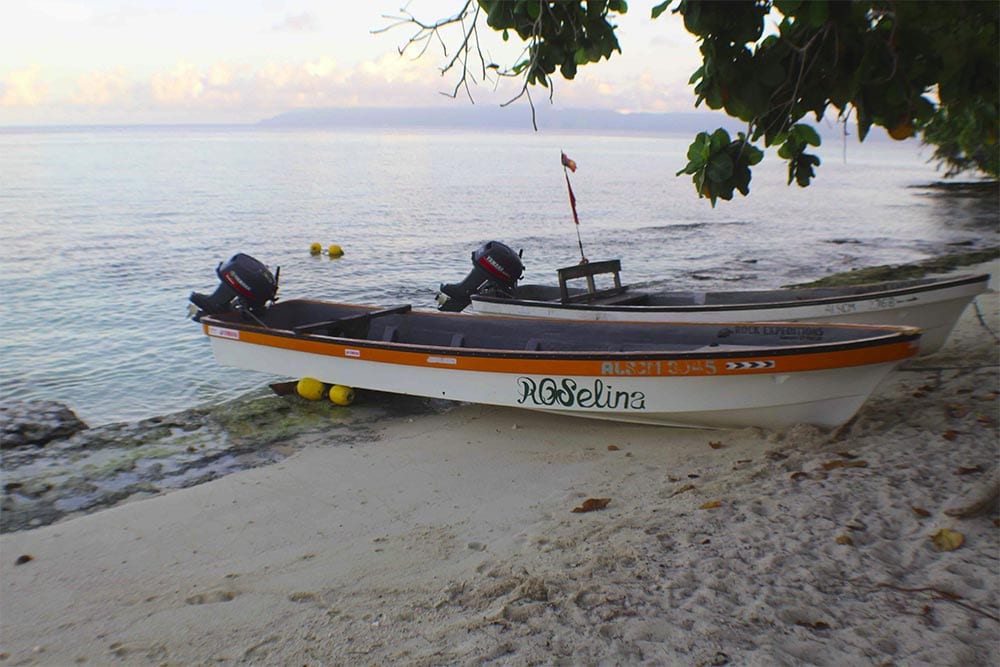 Bushy Island has about 9 residents. It is surrounded by hues of blue/ green water and sand beaches. It is relatively small and takes about 30 minutes to walk around the island. Here, the expedition is conducted as a "wild reef camp" format to preserve the natural beauty of the area and to minimize the human footprint. The remoteness and isolation of this location demands that anglers are highly skilled and experienced in this form of fishing and are highly independent when it comes to managing their own tackle, rigging, comfort and safety in on of wildest environments left on earth!
Much to my delight, Luke has purchased a few one man tents for clients to sleep in. During our stay we would dine on Ramen noodles, bananas, pineapples, coconuts, fish, and the occasional lobster and other types of sea specimens the guides would gather for us. The weather is not too hot as normally pushes above 100F with high humidity. The cool ocean breezes are much appreciated. During the night, literally thousands of stars can be seen in the sky including the Southern Cross.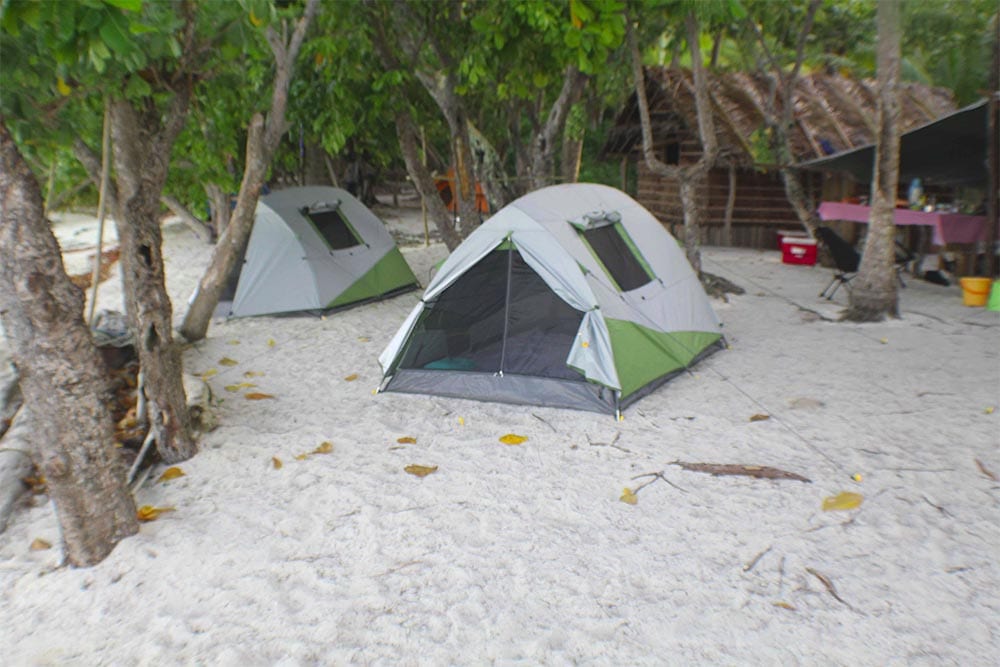 After unpacking and having a bite to eat, Bruce and I are anxious to wet a line for a few hours before darkness sets in. Fishing for Giant Trevally is demanding to say the least.The best of the best rods and reels are a must to battle these brutes. I prefer a Daiwa800H Saltiga Dogfight reel spooled with 135lbs Japanese braided line with a 200lbsmono leader. I cast using a 8ft Ripple Fisher nano carbon spinning rod which can handle about anything which swims. All hooks, split rings, etc on lures are removed and replaced with the strongest available.
Before heading out, I tell Bruce that he is luckiest fisherman in the world to have the opportunity to fish with Luke. Luke Wyrsta is the most knowledgeable Giant Trevally(GT) fisherman on earth. His tutoring is priceless as I have found on the previousExpeditions.
Head guide, Ebby, and assistant guide, Jacob, motor us to a near reef about 20 minutes away from camp. The seas are calm today which makes for pleasant fishing experience.Bait fish are jumping all over the place so Luke figures it is just a matter of time before one of us hooks up.
On my 6th cast using a giant Skipjack popper, an explosion comes out of the water. A huge Giant Trevally devours the Skipjack. Luke instructs me to "palm" the reel spool to
prevent the GT from running into the coral and cutting my line. I listen to instructions and am grabbed in the backside from Jacob to prevent me from getting pulled into the sea. The power of the Giant Trevally is unmatched to anything which swim. After a long, arm bruising battle, a huge Giant Trevally is brought into the boat. After numerous photos are taken, the monster is returned to battle another day. Barbless hooks on our poppers are a must to prevent injury to these magnificent beasts.
It was a red letter afternoon for me. I catch a few more Giant Trevally, get cut off on a huge one, and land a decent size mackerel. Bruce also has a few hits.
Casting is my favourite technique when fishing. There is nothing as exciting as using a popper and seeing an explosion come out of the water and getting to battle a beast as strong as hooking up to a Mack Truck! I practiced casting the giant poppers year round with the hope of increasing my casting distance and to build my endurance which is needed in this tropical environment. One of the main problems for beginner's is to establish one's balance in the boat during rough seas.
Once back at camp we have a delicious meal and drink a few SP green can beers. To my delight Luke has added a refrigerator/ freezer to the camp which is a plus when compared to drinking hot beer, soda, and water!
The next morning I awake early around 5am. There are a few chickens on the island and of course the rooster is like an alarm clock.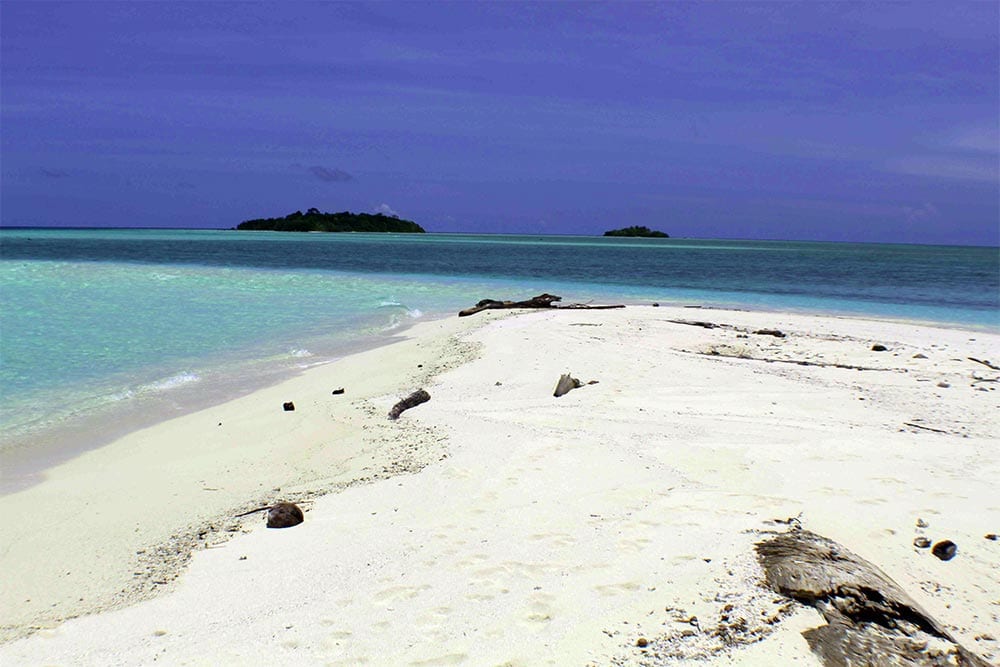 Lodge manager, Gus, and cook, Freddy, prepare us some local bread and cook some eggs for our breakfast. Around 7am we motor off to various reefs near the island in hopes to landing more trophies.
Luke has us speed jigging in an attempt to land Dogtooth tuna. Bruce and I both hook into huge doggies but get our lines cut. After a few hours of jigging we decide to go back to casting.
I again get lucky and my Skipjack is destroyed by a Giant Trevally. After another arm hurting battle another huge Trevally is brought into the boat. Giant Trevally sometimes turn a solid black coloration once excited. After photos the brute is released to fight another day. However, my favorite popper is turning to sawdust and has to be replaced. Everything in the sea has sharp teeth or it would not stand a chance to survive.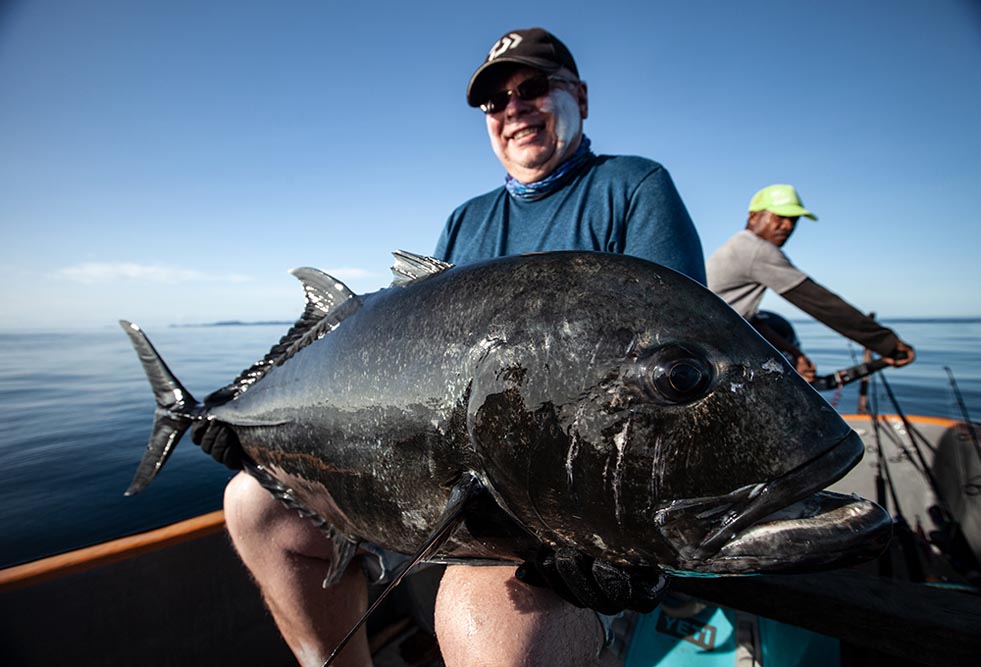 Bruce and I get some strikes during the day. The seas are again calm. Around 11am we decide to motor back to camp to rest our arms and have lunch. Bruce heads to the other side of the island out on a sandbar to cast smaller lures for various reef species which swim in these waters. The coloration of the water is beyond belief with various hues of blue and green present everywhere! While out in the boat, when the seas are calm we can literally see about 70ft into the clear gin waters and observe numerous species of fish swim around the coral.
During our stay we do not see another anglers or any other humans other than the few residents on Bushy Island. I have found the residents of Papua New Guinea to be some of the nicest folks on this earth. Most of these "Island" residents do have have a worry in the world. They know nothing about the issues of the world, do not know about finances. They just survive and I surmise would not change if given the opportunity.
The locals and other Island residents in the Sea of Solomon, rely on seafood for their main diet. They collect freshwater during rain storms, and some islands have pigs roaming. The women do the majority of the work while the men sit around and chew on Betelnut all day which is evident by their red teeth and blackened gums.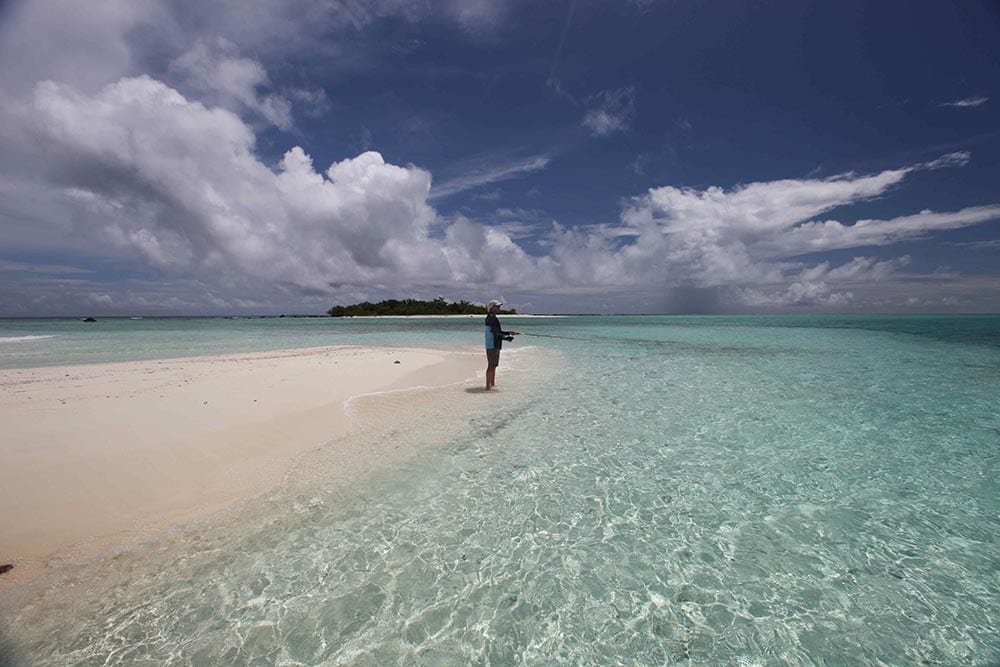 After a short nap, we head back out around 3pm. I again cast extremely large poppers while Bruce casts large stickbaits. Bruce is rewarded with a massive explosion. Under the guidance of Luke, Bruce reels in the largest Yellowspot Trevally caught by a Rock Expedition client. It is a species which I am not familiar with.
The following day is another great day for us. The seas are again calm and the temperatures are not too hot. I would guess a cold front has arrived as evident with one of the guides showing up in a winter parka!!
Fishing for Giant Travally is very hard on one's body. Hundreds of casts can be made without a bite, but you have to concentrate with each cast so you are ready when the fish of your dreams explodes on your lure.
Later in the day, Bruce catches a decent Giant Trevally. I again get lucky with a huge specimen which has a few dark blotches on its cheeks.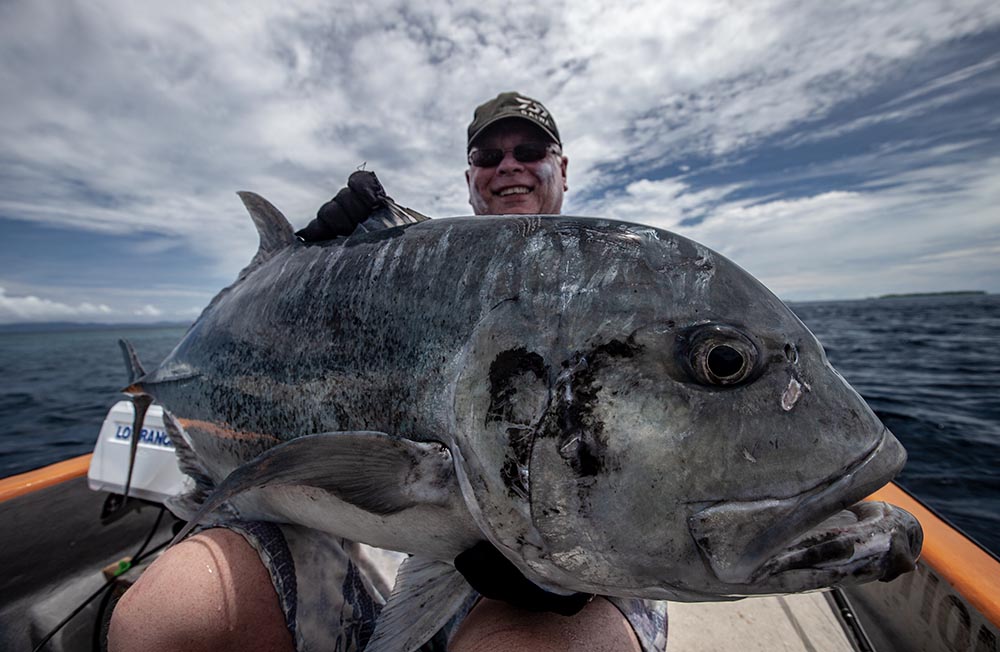 This brute put a real hurt on my arms and back. One has to use all the strength available to stop these brutes from running into the sharp coral. Once stopped you then have to be able to lift them off of the bottom. I would describe the battle as hooking into a car on the Dan Ryan Expressway in Chicago!
Bushy Island is quite comfortable. It has a few huts on the island where residents reside. The island is surrounded with white sand beaches of which I am sure nobody has set foot into. Papua New Guinea is like going back in time. It is one of the last remaining "Lost Worlds" on this earth!
The next morning, I again get extremely lucky. The West winds are picking up which makes the seas a tad rough. After a few casts with the Skipjack Popper, I again hook into a Black Giant Trevally. These brutes are black as soot! Really cool looking!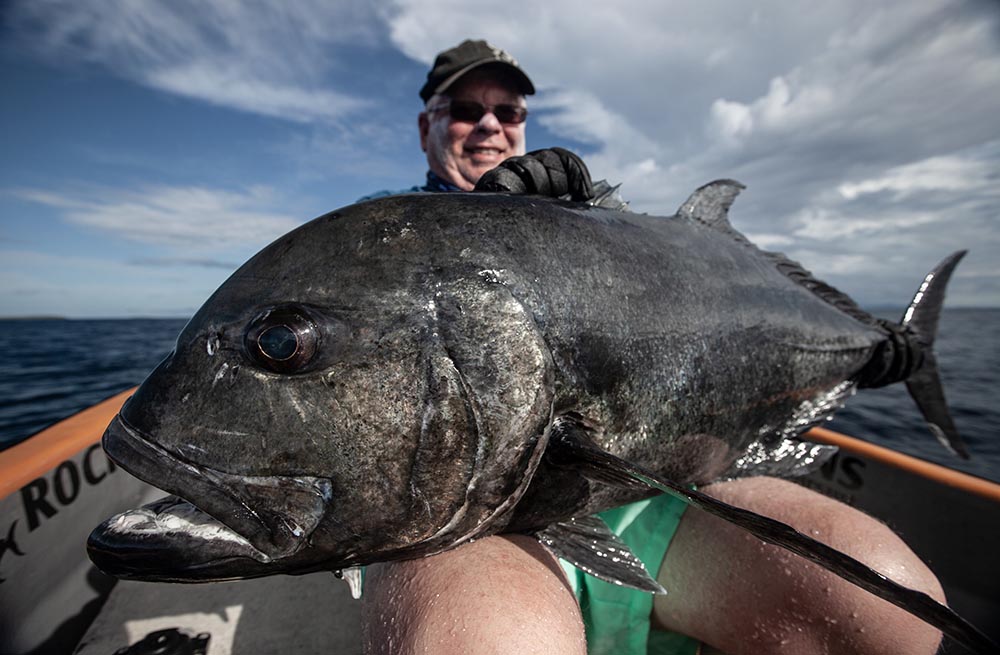 Bruce has some good action with landing a coral trout. During the afternoon the winds begin to howl so we decide to take a much deserved break. Bruce fishes on the other side of the island and lands a small Giant Trevally while I just sit around and stare at the beautiful surroundings.
Later in the evening, Bruce decides to try some of the local Betelnut. Years ago, while fishing for PNG bass in the jungle, the natives had me try some. The components for this are a white looking bitter nut which you then dip a so called green mustard stick into some white lime. A chemical reaction takes place where your inside mouth turns red. Bruce chews on only a small portion of the nut, while I was given the "entire" Betelnut to chew on by the natives. After having my teeth turn red and sweat bullets, I got high as a kite so imagine doing this all day long as the natives do!
The next morning we decide to do some jigging. We get lucky hooking into a few smaller dogtooth tuna. These beasts have razor sharp teeth and grow to enormous sizes exceeding 200lbs.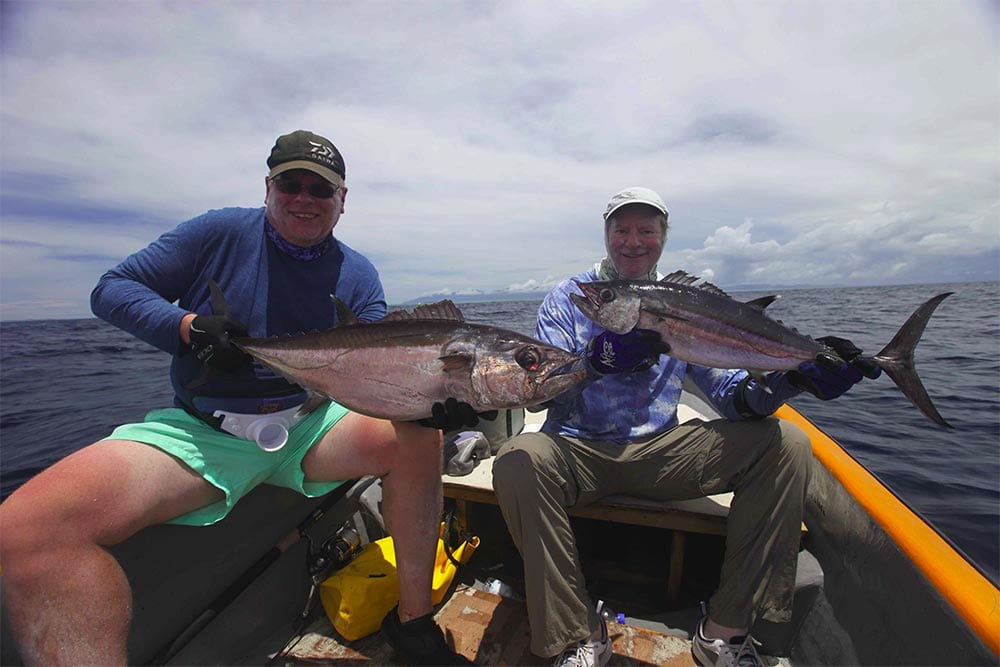 We keep a few of the doggies which are simply delicious. Gus prepares some sushi.
Bruce hooks into something big. Luke tries to get Bruce to reel in faster and says a shark is coming. We landed a few shark during the week. I landed a huge shark we estimated at over 6ft. Bruce reels faster and Luke begins to shout that a rare Napoleon Wrasse is hooked. The Napoleon Wrasse is the "Holy Grail" for most anglers. They are beautiful looking fish with larger rubber looking green blue mouths and various colorations and details on the body. So far they have avoid my lines!!
After about 30 minutes we are able to revive the Wrasse to swim another day. I do not believe Bruce knew of the luck in landing this true trophy! I believe the God's were with him after trying the Betelnut!
The next few days the West winds return making fishing impossible. Bruce catches up on some reading and casting around the island. I work on my tackle and walk around the island catching in the sites. Luckily, a few of the guides motor back to Misima as we are running out of beer!!
On our last day with winds calm. I again get extremely luck in landing the strongest Giant Trevally I have ever hooked. This brute burned a hole through my leather gloves as I tried to stop it's run by grabbing the reel spool. I still have a burn mark on the palm on my left hand which is a reminder of this trophy!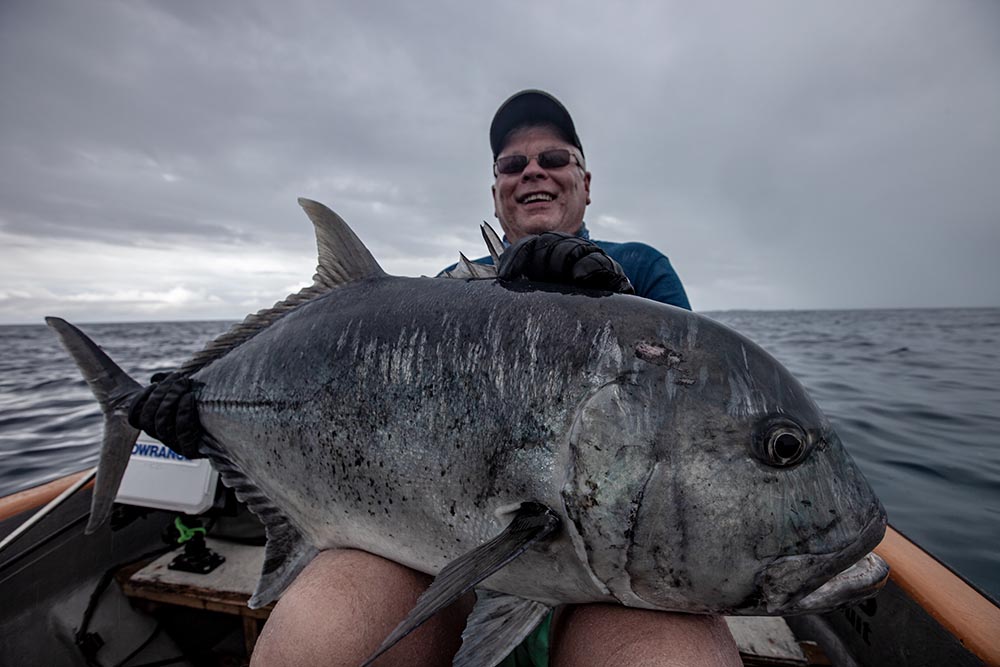 Later in the morning, Bruce and I both catch a few jobfish, coral trout, barracuda, and mackerel. What a way to end a great Expedition.
The following day, we pack up camp, rinse all of our rods and reels with freshwater to remove any salt deposits and motor back to Misima. Later in the day, we say goodbye to Luke and the fabulous guides and fly back to Port Moresby. We again stay at the Gateway Hotel and devour the largest steaks available at the hotel restaurant.
The next day I fly back to Brisbane, Australia and overnight before flying back home.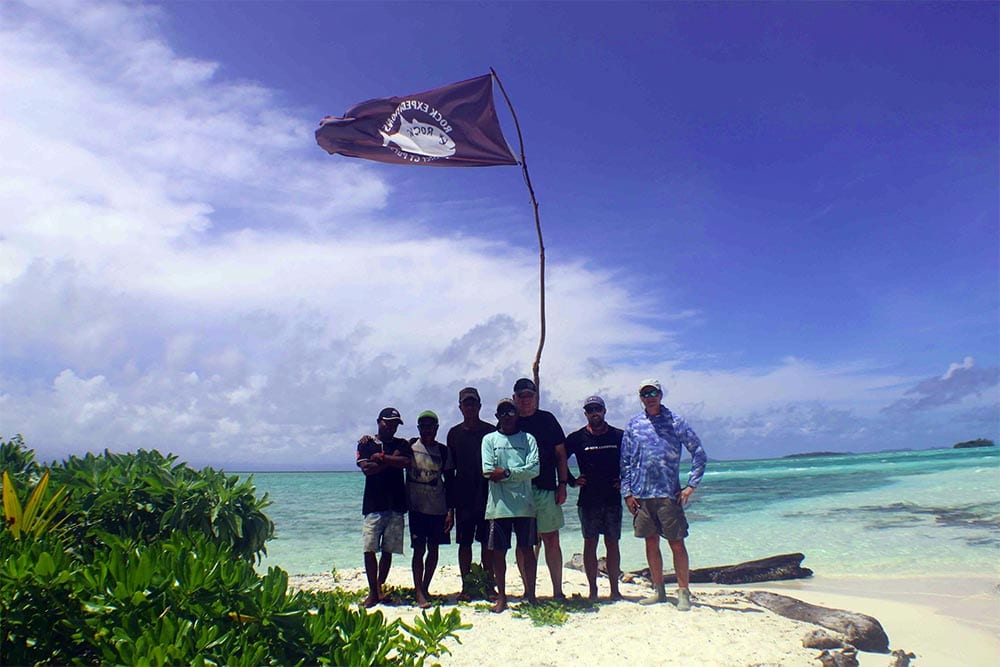 In ending, this was the best trip I have taken for Giant Trevally. My arms are still aching and the burnt mark on my palm reminds me of the reasons I want to return again next season. I believe Bruce had a great Expedition and was a joy to fish with. I am still jealous of his Napoleon Wrasse. Luke Wyrsta of Rock Expeditions did everything in his power to make our Expediton a huge success. Not only is he a great teacher on Giant Trevally techniques, but has become a close friend. I cannot recommend this Expedition enough.
As Charles Dickens once said "Reflect upon your present blessings- of which every man has many- not on your past misfortunes, of which all men have some.
I have been extremely blessed to have been give the opportunity to travel the world! I give thanks each and everyday!
As Mark Twain once said " Twenty years from now you will be more disappointed by the things you didn't do than by the ones you did. So throw off the bowlines. Said away from the safe harbor. Catch the trade winds in your sails. Explore. Dream. Discover."
So life is too short, live your dreams as I do!
Luke Wyrsta of Rock Expeditions
Guides EbI, Jacob, Freddy, Gus, and the other Rock Expeditions staff
Kermett Adams of klures for great GT poppers
Daiwa—hey guys I need some new baseball hats!
Ripple Fisher Rods
Bruce Cross
Residents of Papua New Guinea and especially Misima Island
Qantas, Air Niugini, and PNG Airlines
The staff at the Ibis Brisbane Airport Hotel and the Gateway Hotel in Port Moresby
Especially the monster species out in the Sea of Solomon off of Misima Island.
See you next year!! Dorado killer
[if you would liked to get in touch with Bob, please contact us and we will refer you]